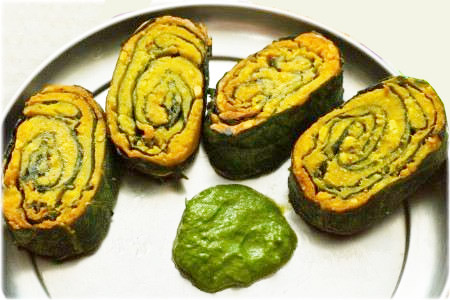 Himachal Pradesh is known for its traditional dishes which are being cooked in Himachali Kitchens. These dishes can be like Patrode, Himachali babru, khoru, aenklu, chareli etc. But as the new generations is modernizing themselves to the western culture, we hope that soon these dishes will disappear from the state. Few of the people are still interested in the traditional recipes and for such people here is the process – how one can make the patrode at their home.
Ingredients:
Taro leaves(Arbi ke patte or kachalu) – 250gm (10-12 patte)
Gram flour (besan) – 250 gm
Coriander powder
Turmeric powder (haldi)
Salt
Mustard Oil,
Thread,
Desi Ghee,
Green chillies,
Garam Masala
Recipe:  Prepare a paste of Gram flour, turmeric powder, Garam Masala, Dhania powder, 7-8 teaspoons of mustard oil in mixer-grinder. Wash the taro leaves (Arbi Patte) and apply the paste evenly to them. Now roll the leaves and keep applying the paste until and unless it is being rolled completely. Then tie them with thread or turmeric leaves. Now repeat the process with remaining leaves and when completed add 2 cup of water and 1 tea spoons of oil to water and steam cook the above chunk till 4 5 whistles. Let them cool for 10-15 minutes. After this fry them like the rest of the vegetables by cutting into pieces, you would love to. Enjoy the recipe with Desi hot Ghee with your friends and family.